After living with my parents for a year and being so consumed by loneliness that I once considered getting caught naked by the mailman on purpose, I had accepted that my fate was to become a spinster harpy. I was ready to move into a cave somewhere and settle into my mattress of tabby cats. I resigned myself to the way of the world.
Somewhere along the way, my plans changed. I moved out of my parents' house and I put on a bra, which, along with my obvious charm and advanced social skills, positioned me to snag a Man Friend—a real keeper.
And now we are living together with nary a cat in sight.
Now, there was no pep talk for living with your S.O. like there was a "don't show boys your parts" talk before middle school and a "don't get pregnant from boys" talk before college. No one explains how things work or what to expect from living with boys, mostly because it's too hard for parents to imagine what happens between their sweet angel spawn and her boyfriend in their pre-marital den of sin. For starters, there is a lot of farting.
So in case you are in a similar situation and need a crash course in cohabitation, here's what to expect from making the big move.
Editor's Note: If you are the type of person who grew up saying "fanny" and "toot", don't read on. You'll soon find that, clearly, I wasn't one of those people. BUTTS AND FARTS AND BUTTS AND FARTS.
—
1. You will break your vow to never fart in front of your boyfriend, meaning that eventually, farting will replace communicating. You fart when you are mad at each other. You fart when you are overjoyed. You fart before sex. Sometimes, a lot of the time, one of you farts during sex. 
2. You will never know if you are looking at your boyfriend's pubes, chest hair, armpit hair, beard hair, or hair-hair in the sink. On the other hand, he will be one hundred percent certain the tumbleweed that blows from room to room, consuming all other organisms in its path until it creates a vibrating tumor of Ebola dirt, is most definitely a colossal hair ball from your constantly shedding fur. No vacuum will be sufficient.
3. You will learn to never judge a person for a) how many Doritos he/she consumes in one snack attack or b) having a ring of radioactive [RADIOACTIVE!] neon cheese dust around his/her mouth without noticing or caring. This is a no-judgment zone. 
4. Your boyfriend has more clothes than you do. In fact, he has approximately 86 dry fit tees, and more ties than your dad. YOUR DAD.
5. Peeing is no longer considered a private activity. You don't remember the last time you took a whiz by yourself. As they say, "My door is always open," but in this case it's only the bathroom door, and it's fucking disgusting, and I'm sorry you all know this about me now.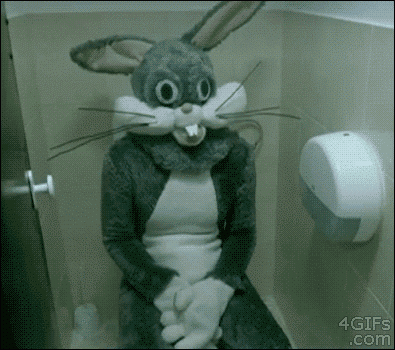 6. You will come so close to pooping in front of that other person. SO G-DAMN CLOSE. You will think about it. You will do a test run and leave the door open a crack for thirty seconds, then panic thinking he realized and slam it shut. You will let a nugget crown while he is in the shower to see how the vibe is, only to chicken out and suck it back into your distended colon of suffering. You will come just close enough to decide that's not happening until after he's at least seen a baby come out of your other hole. He will have to stay with you after that.
7. You will both think it advisable to try (and fail) a juice cleanse one sweltering summer Saturday, and you'll never speak of what happened. 
8. Your boyfriend sleeps like a burrito. 
9. You might have a chance and unwanted encounter with your boyfriend's taint. 
10. Your boyfriend might have a chance and unwanted encounter with your taint (that is, if you are of the school of thought that lady taints are a thing). 
LOL @ romance.